ENTDECKEN SIE UNSERE BALLONFLÜGE
GENIESSEN SIE LUFTBALLONFAHRTEN MIT UNS UND ENTDECKEN SIE EINES DER SCHÖNSTEN ERLEBNISSE IN MARRAKESC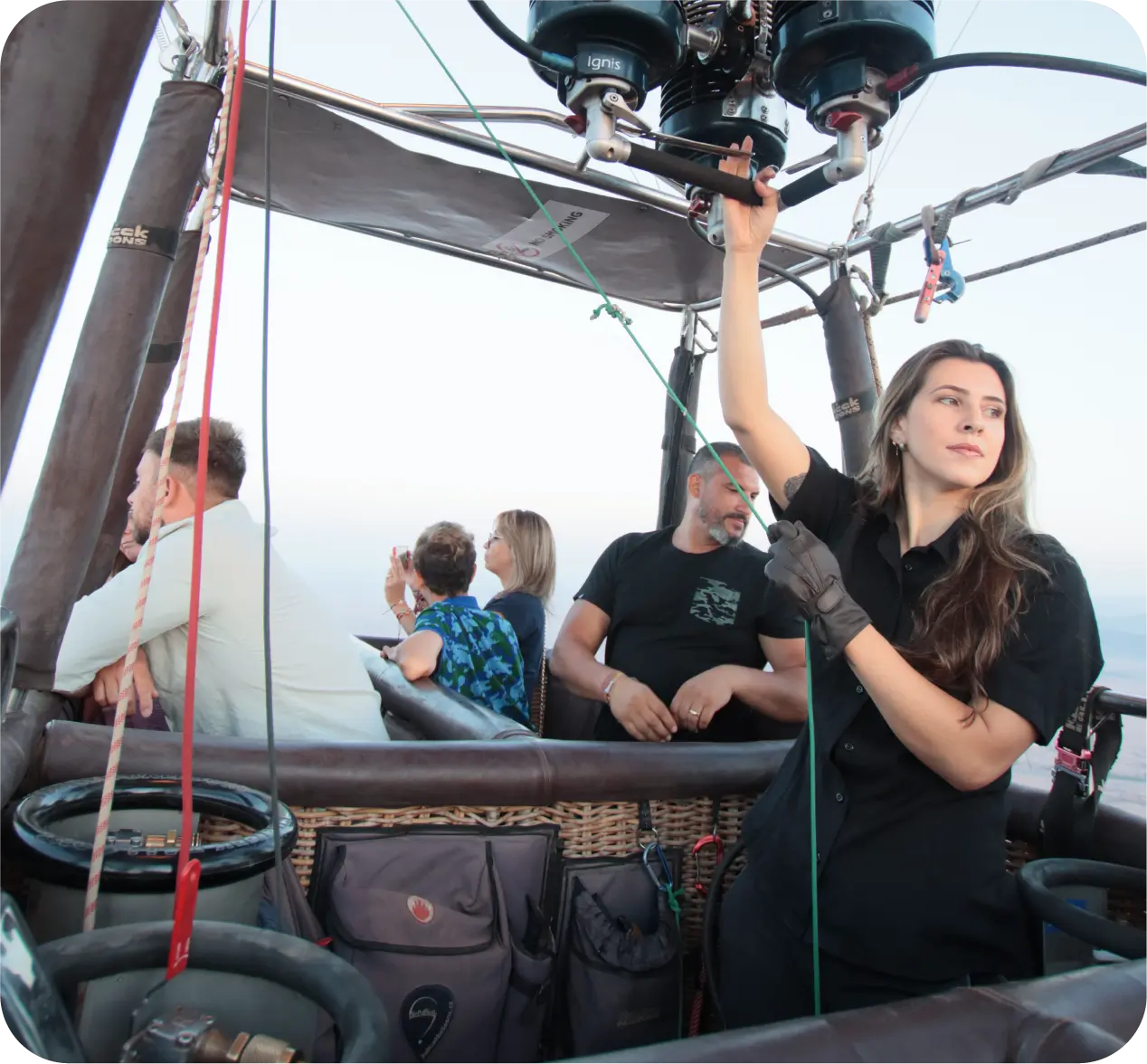 Hin- und Rücktransport
Empfang mit Tee und Erfrischungen
Sicherheitseinweisung durch Ihren Piloten
Vorführung der Ballonvorbereitung
Flugdauer ca. 60 Minuten.
Nach dem Flug wird ein marokkanisches Frühstück serviert
Flugzeugnis mit Ihrem Namen auf Arabisch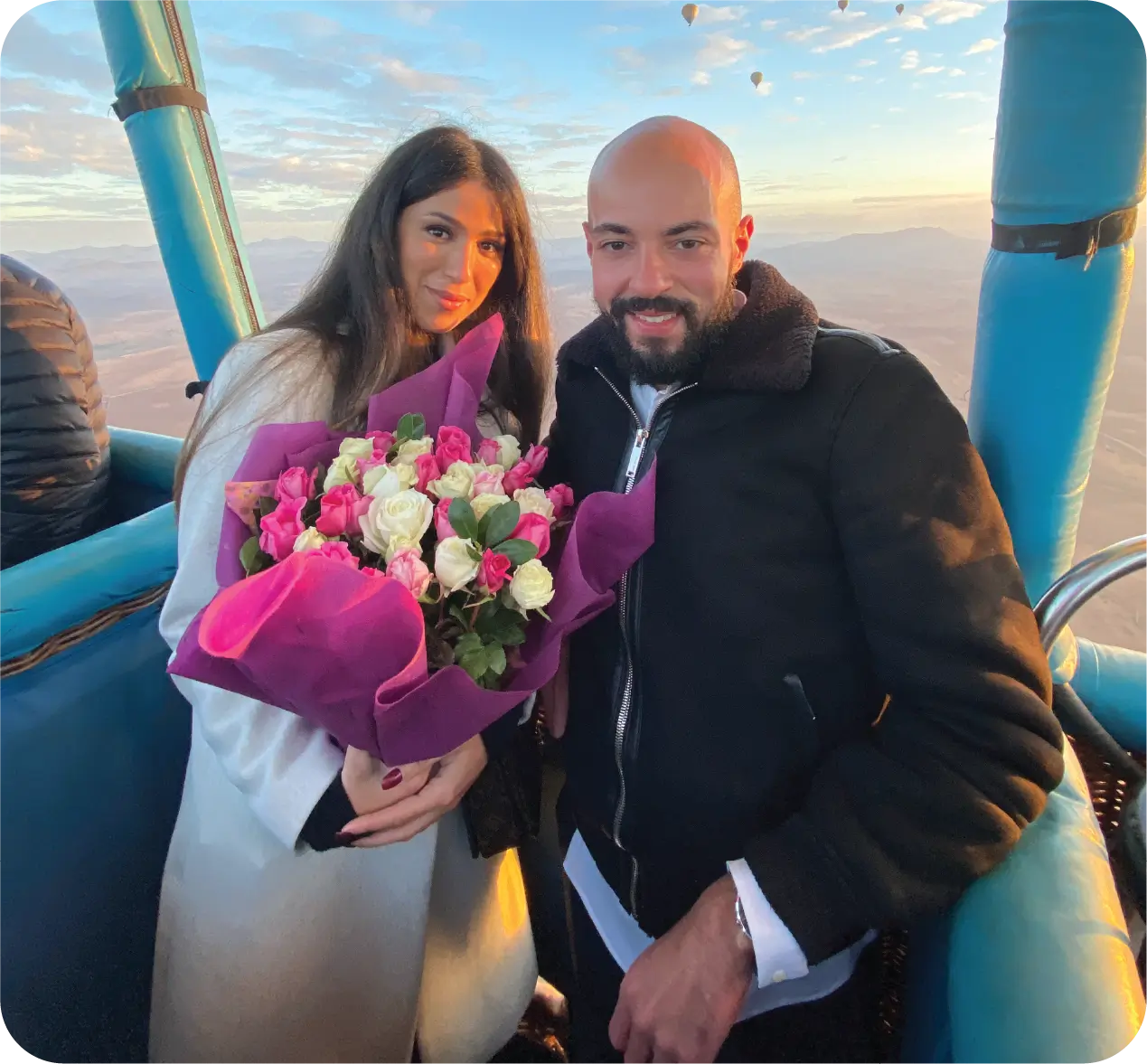 Hin- und Rücktransport
Empfang mit Tee und Erfrischungen
Sicherheitseinweisung durch Ihren Piloten
Vorführung der Ballonvorbereitung
Flugdauer ca. 60 Minuten im Privatabteil im Sammelflug
Nach dem Flug wird ein marokkanisches Frühstück serviert
Flugzeugnis mit Ihrem Namen auf Arabisch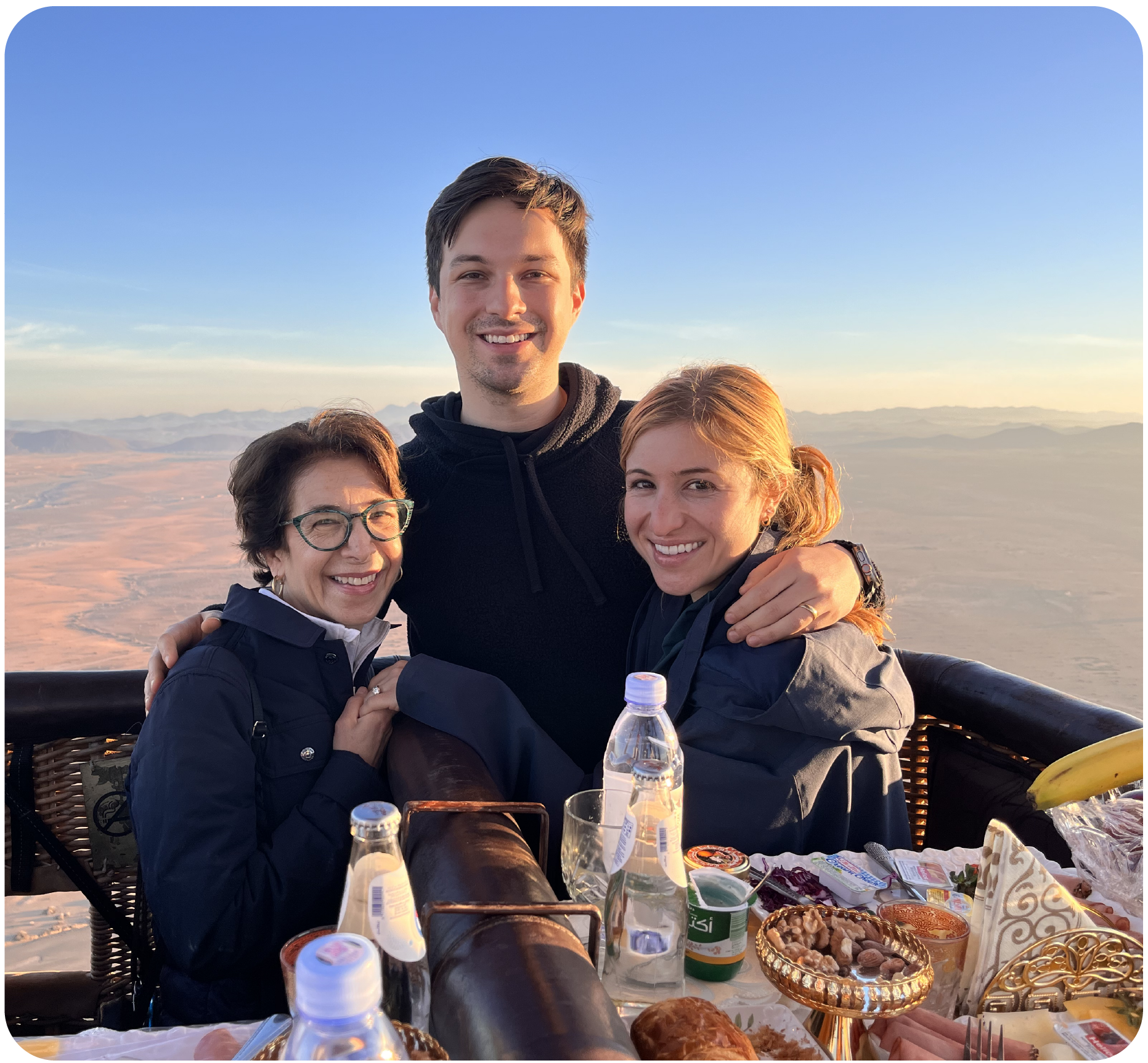 Luxuriöser privater Transport
Empfang mit Tee und Erfrischungen
Sicherheitseinweisung durch Ihren Piloten
Vorführung der Ballonvorbereitung
Flug für ca. 60 Minuten im exklusiven Privatballon
Frühstück serviert in Ihrem Luftballon
Flugbescheinigung mit Ihrem Namen auf Arabisch
SEHEN SIE, WAS UNSERE KUNDEN SAGEN
Der Erfolg unserer Kunden ist unser Erfolg. Hier sind nur einige der erstaunlichen Kommentare zu ihren Erfahrungen.
Verified
Spectacular🤩 On the day of our balloon ride the weather was not good. They did tried to pursue the flight but however safety first was the priority. We were given a choice to refund or rescheduled for the next day. Hence, My friends and I decided to rescheduled and it was the best decision we ever made. At first, We were given a briefing before the flight, saw how the balloon was inflated and when we were up there, we took plenty of pictures of the sunrise. The drone for videos and pictures that was offered for an additional pay was so worth it!!! In addition, The breakfast after the flight was so fulfilling and posh. We like the ambience of the place and we were thrilled to be given a flight certificate at the end. My friends and I had a great time with them and we will always cherish this balloon experience for a lifetime. Cheers 👏🙌👍
Verified
Another check off my Bucket list! I was with a large group and went up in the largest balloon they had , one of the largest, holding up to 28. Our group was 23 and even with a large ground, it was totally amazing! Mathew was our pilot and he was so skilled that we took off and went to different elevations in such a way, we landed about the same spot we took off! Yet moved at about 45 kph. Definitely a "must do" if you have the opportunity.
Verified
Voyage en famille Superbe moment passé en famille dans les airs avec comme toile de fond l'atlas et un lever de soleil
Pioneer11900359073
2023-10-16
Verified
Magique ! Mille mercis à Daniel pour ce vol inoubliable lundi dernier ! Un levé de soleil magnifique ! Expérience inoubliable ! Vue à couper le souffle ! Logistique incroyable, une équipe au top aussi bien à la manœuvre qu'aux commandes ! Petit dej tres agréable au retour ! Lors d'un prochain voyage nous reviendrons avec grand plaisir ! Bonne continuation !
Verified
Il deserto dall'alto Il giro in mongolfiera era incluso nel pacchetto acquistato con Voyage Prive per la nostra settimana a Marrakech. Abbiamo già fatto diverse volte giri in mongolfiera in Europa, quindi arrivavamo preparati. Sveglia super presto e breve viaggio a raccogliere altri partecipanti, quando siamo arrivati al campo il freddo era molto maggiore di quanti ci aspettassimo. Davanti alle "tende" dove abbiamo fatto il briefing, c'erano sedie in circolo vicino a piacevoli falò. Quando però ci hanno fatto il briefing, ci hanno fatto sedere in queste "tende" lontano dal fuoco dove abbiamo patito inutilmente freddo. Il giro è stato ok ma il panorama da vedere non è nulla di che eccetto l'alba. Pensavamo che onestamente si vedesse qualcosa di più interessante.
Maurizio Paolo M
2023-10-09
Verified
Un rêve Accueil chaleureux avec thé autour dun feu, l'occasion d'échanger avec différentes personnes, debrif concis par le pilote Marc apres ça que du bonheur, belle expérience. Levé de soleil, découverte du Maroc, petit village et montagnes de l'atlas. Atterrissage parfait bravo au pilote et aux équipes autour Une vraie logistique. Petit déjeuner au retour très agréable. Merci Alexandra et Franck P
Verified
Beautiful experience Such a beautiful experience - from seeing the balloons inflated, realising that you are airborne, the peacefulness, the views and the sunrise. Our pilot Rego and his team were very professional and reassuring. Well worth getting up early for
FellowTraveler728497
2023-09-30
Verified
Une parenthèse enchantée Un vol en montgolfière, avec levé de soleil. Piloté par Marc, dés le briefing une partie des tensions se sont dissipées. En vol, très vite rassuré par le professionnalisme de Marc, nous avons pu profiter d'un moment hors du temps. Je recommande.
Verified
Super expérience Une excursion très bien organisée. Nous avons passés une excellente matinée, les vues sont magnifiques , c'était calme et apaisant. Le pilote , Mahmoud , était très gentil . Un moment hors du temps . Merci
Verified
A Must! A must activity! My friend and I could not stop smiling throughout our whole experience. Absolutely breathtaking views, and super safe! Mahmoud and his team took such good care of us, so friendly and welcoming. We also had a lovely breakfast afterwards that was included in the price. Would 10/10 recommend!